Welcome to Martin's Hypermarket
Home Delivery during COVID-19
In order to maintain social distancing and reduce the spread of the virus we are offering home delivery service. To order yours please contact us on any of the numbers below.
WhataApp and Call:
7338646111
7259592002
8296850774
Please Note: During these busy times we might not be able to pick your call straightaway if all our customer assistants are busy attending another call, but please be assured that we are doing our best to answer your call as soon as possible.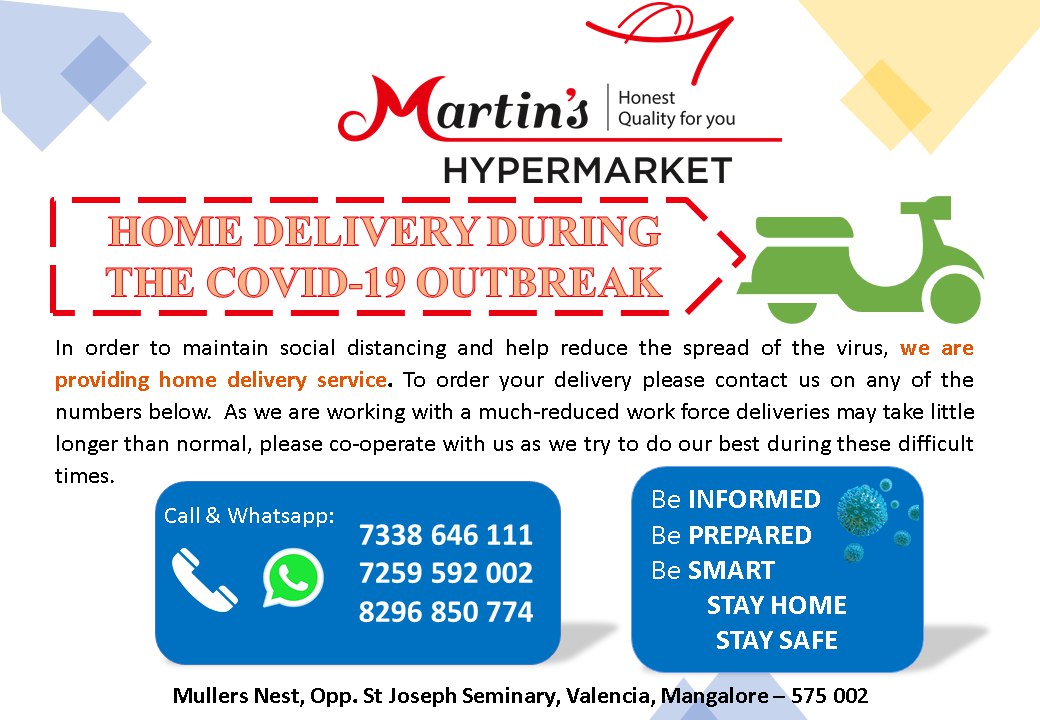 They serve the best and the home delivery service is so convenient. I would give them 10 on 10 for time management. I'm great fan of this particular supermarket.
Tabseera Kousar
Almost everything you need is available. Nice and friendly staff
Alana 
I love the range of items here. Fruits and vegetables are very fresh.
Alexe Ranjan
Convenient with most things available, and ample parking.
Roshan Joyal
This is new hypermarket opened in Valencia. Air contained store they have a huge collection of products. There is parking facility for both two-wheelers and four wheelers. They also have restaurant on the top floor.
Yashasvini S Shetty
Head Office
Martins Hypermarket
Mullers Nest Opp. St Joseph Seminary
Valencia, Mangalore – 575002
Monday to Sunday
7:00am – 11:00pm